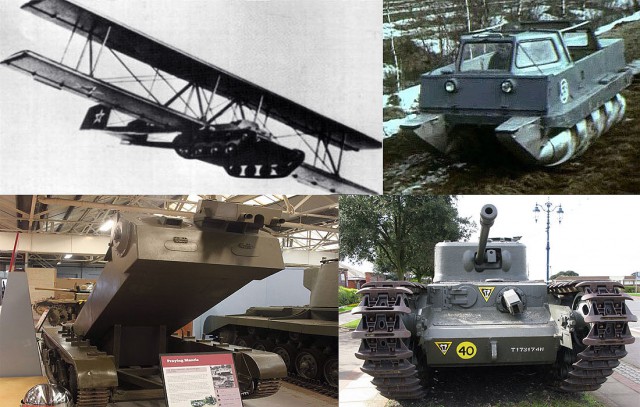 (1) Designer's model of the Soviet tank with glider wing, 'Antonov A-40' photographed in 1942. The flying tank had one semi-successful test flight (2) ZIL-2906, the screw drive vehicle (3) Front view of the Churchill Crocodile Flamethrower tank, showing the hooded flame throwing nozzle next to the viewing hatch of the driver (4) The surviving Praying Mantis prototype at Bovington Tank Museum in Dorset
Tanks are designed for front-line combat. These strong armored fighting vehicles are a pivotal part of any land forces in warfare. Tanks can be used in both offensive and defensive situations. With the help of the large-caliber cannon fitted to its rotating turret, the tank can take hold of and dominate an area and prevent the advancement of enemy vehicles during combat. Modern tanks have gone through a century of development from the early armored war vehicles.
The following 10 most bizarre tanks which, among many freakish tank designs, were actually constructed. Some militaries possess bigger dreams than others. However, not surprisingly, most of these ludicrous tanks never saw substantial action in the battlefield.