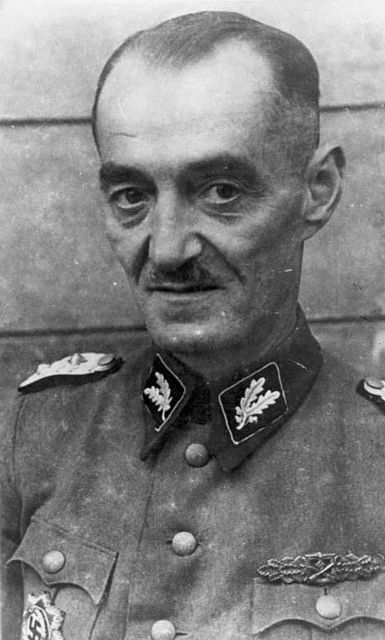 Dr. Oskar Paul Dirlewanger (26 September 1895 – 7 June 1945 (certificate of death), a German military officer, was the founder and commander of the infamous Nazi SS penal unit "Dirlewanger" during World War II. Dirlewanger's name is closely linked to some of the worst crimes of the war. He also fought in World War I as well as in the post-World War I conflicts, and in the Spanish Civil War. He died after World War II while in Allied custody, apparently beaten to death by his guards.
He is invariably described as an extremely cruel character by historians and researchers, including as "a psychopathic killer and child molester" by Steven Zaloga, as "violently sadistic" by Richard Rhodes, as "an expert in extermination and a devotee of sadism and necrophilia" by J. Bowyer Bell, and as "a sadist and necrophiliac" by Bryan Mark Rigg. World War II historian Chris Bishop called him the "most evil man in the SS." According to Timothy Snyder, "in all the theaters of the Second World War, few could compete in cruelty with Oskar Dirlewanger.
Oskar Dirlewanger was born in 1895 in Würzburg. He enlisted in the Imperial German Army in 1913 and served as a machine gunner in the 123rd Grenadier Regiment on the Western Front of World War I, where he took part in the German invasion of Belgium and later fought in France. He won the Iron Cross 2nd Class and 1st Class medals, having been wounded six times, and finished the war with the rank of Lieutenant in charge of the machine gun company of the Infantry Regiment 121 on the Eastern Front in southern Russia and Romania. At the ceasing of hostilities the German units in Dirlewanger's area were ordered to be interned in Romania, but Dirlewanger disobeyed orders and led 600 men from his and other units back to Germany.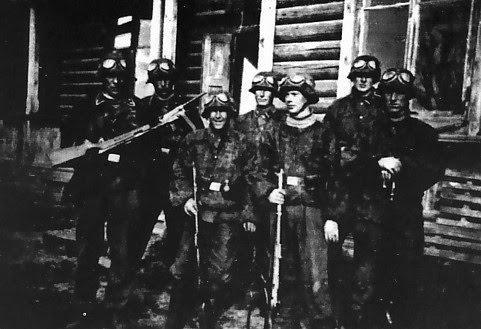 According to his German biographer Knut Stang, the war was the main factor that determined Dirlewanger's later life and his "terror warfare" methods, as "his amoral personality, with his alcoholism and his sadistic sexual orientation, was additionally shattered by the front experiences of the First World War and its frenzied violence and barbarism."